At Back-Roads Touring, we've spent over 25 years crafting small group holidays that delve a little bit deeper. Our dedicated mini-coaches enable us to travel the back roads, avoiding motorways and taking you to the heart of all our European destinations.
Scenic Back Roads
See the difference a more powerful image presentation makes for inspiring traveller interest. Long page scrolling format is an example of drawing the audience deeper into a visual journey. Layouts can be A/B tested to determine effective for on page engagement through UX design.
You can't appreciate the landscape or architecture of a country from a monotonous motorway, so our escorted holidays always take the scenic back roads to reach your destination. The expansive windows of our mini-coaches allow you to sit in awe of the spectacular landscapes that you pass through - whether rugged mountain panoramas, stunning sea vistas or gentle, rolling fields as far as the eye can see.
The compact form of the mini-coaches that we use on all of our escorted tours allows us to travel through winding streets and country byways that are inaccessible to larger groups in huge coaches.
Authentic Local Experiences
Our escorted holidays give the opportunity for guests to get to know the heart and soul of their chosen destination. This includes visiting the historical sites that shaped the course of its history, and taking part in cultural experiences that continue to bind the present with the past.
Language lessons, tea ceremonies, dancing shows and artisan demonstrations all feature on our escorted tours, providing you with cultural insights that help you to really understand the heritage of the place you are visiting.
Leisurely Paced Itineraries
We see our guests as travellers who want hands-on experience of their destination, rather than tourists whose aim is to simply observe. All of our Back-Roads tours are conducted at a pace that encourages immersion and true understanding of the places you visit.
The itineraries of our escorted holidays cover a wealth of historical and cultural gems that we know you will love, but we also allocate plenty of free time for you to explore on your own. Whether you choose to visit museums, stroll along a riverbank or simply sit in a cafe and soak up the local atmosphere, this free time is often quoted as a highlight of our group holidays by happy customers.
Delicious Culinary Discovery
Are you looking for an experience that excites your sense of adventure as well as your taste buds? A number of our tours are peppered with culinary encounters that allow you to see, feel and savour the true atmosphere of your surroundings.
The Back-Roads philosophy is just as much about discovery as it is about destination. This is an ethos that extends to our culinary tours: they are designed to enable you to connect with the entire food process, from soil to serving and from grape to glass. Our expert tour guides, who are all culinary connoisseurs themselves, will invite you to unlock the secrets of your destination through its local cuisine, from the souks of Morocco to the docks of Cornwall.
When it comes to unforgettable experiences, educational opportunities and delicious dinners, we think that our trips offer something for everyone, whatever your taste.
With a group size no larger than 18 (or 22 on our French barge tours), our escorted tours ensure that each guest has a personalised holiday experience. An intimate group allows our expert tour leaders to dedicate time to each and every one of their guests; we encourage you to ask questions and share in their immense knowledge and passion for the destinations you visit.
Our group holidays bring together like-minded individuals – whether travelling as couples, friends or individually - by sharing dinner tables, experiences and memories in the making. You may start a tour as strangers, but we are sure that you will end the tour as friends.
Dedicated Expert Guides
Our award winning tour leaders are committed to delivering the 'Back-Roads Difference': whether that be dining with the group, offering the flexibility to change the itinerary, giving personal recommendations for lunch or bringing each destination vividly to life with their insight and knowledge. Our tour leaders are dedicated to delivering a truly authentic, personable experience; we can honestly say that every single one of them is truly passionate about the tours they lead. With a wide range of backgrounds and former occupations, including a botanist, policeman, soldier, philanthropist, photographer, business owner and sailor, they will enhance your tour with fascinating facts and interesting anecdotes. We're proud to say our tour leaders really are the best in the business.
With tour guides being the heart of the experience, feature more photos of guides showing what makes each guide unique and special. Feature Isabela sharing the 'Mediterranean way of life' with guests, and Agnes exploring street art and hidden corners. Bring these stories to life to entice travellers to join them for the experience of a lifetime. Short video clips would further allow their wonderful personality to shine through to engage audience interest and create trust in choosing Back-Roads Touring product.
Half Italian and half Spanish, but born in Belgium and living in Italy, Isabelle is without doubt, a 'citizen of the world'. Her personal philosophy about travelling is that to truly understand a country you have to understand its people, and that is why she has travelled and lived in so many differentcountries. She takes pleasure in leading guests throughout Italy and Spain and having the chance to show them the Mediterranean way of life. "It's more than just delicious food and fantastic wine - it's about the architecture, the monuments, the people, and the culture… and most importantly, having a bit of fun along the way".
Agnes was born in Poland. Having spent her childhood in Canada, she quickly developed an interest in foreign languages and cultures. Being a Tour Leader perfectly combines everything she truly loves: travelling, meeting new people, photography and using all the languages she knows in practice. Her special travel interests include: urban exploration, upcycling, subcultures, concept cafes and hotels, art (especially street art) and folklore. Agnes is always on the lookout for hidden corners, unknown places and unusual objects, especially in Central and Eastern Europe, which is the area of her expertise: '"There is something attractively mysterious about places off the beaten path. Looking for them turns you into a detective or archaeologist who wants to find some kind of lost or forgotten gem that other people just pass by.
Product Strategy
Become THE Leading Baby Boomer Experiential Travel Resource
1. Powerful Visual Storytelling: see the emotional connection images can illicit
Website imagery and layout is key to entice and engage consumer. Showcase photos that instill a sense of 'Wow take me there!'
Create bucket list desire as this is an important category for baby boomer travel. Build a strong sense of 'I want to experience that!'
Tap into flat lay photography for showcasing culinary experiences, key attraction for baby boomer travel, at its best which can be done on smartphones
Highlight tour guides as USP of Back-Roads Touring product, and share their personality to build trust with potential customers
2. Getting Inside the Mind of the Consumer
Customer trip data: in depth analysis to learn from the goldmine of information from trips bought and travelled to gleam best practice for building new product, expanding on current successes, and fine tune revisions and weak performing tours
Trip Advisor: harnessing the power of online word-of-mouth review recommendations

The most popular travel planning online resource for Baby Boomers per AARP (American Association of Retired Persons) Travel Trend 2017 report
Great potential with existing positive reviews recommending Back-Roads Touring from travellers with readership from 65k (Jacquie), 55k (LEA), 45k (MMMMQueensland), to 15k (Graeme)
1 reviewer (Graeme) who has taken 6 tours and mention a disappointing experience at Melbourne travel expo. Chance to reach out and make this repeat customer feel special and garner further positive feedback for the company.
3. Engage Engage Engage via Facebook Community and Build Relationship and Trust
Facebook is the most used social media channel for baby boomers according to Q1 2017 Sprout Social Index.
Beautiful story of one year reunion trip and example of solo travellers making new friends. Would provide perfect testimony on website to encourage solo travellers to join.
Utilise Facebook Live strategy such as video snippets by tour guides on tours to share the authentic feel and behind the scenes of Back Roads Touring, and show interested audience what a particular destination is like that may be receiving frequent questions. Highly cost effective as done via smartphone without additional equipment or editing needed.
4. Publish Inspiration and Insights to Become Leading Source for Baby Boomer Travel Based on Travel Trend Analysis
Australian Baby Boomer's wish list include Thailand and Japan besides European countries according to emma (Enhanced Media Metrics Australia) report 2017.
Globe-trotting baby boomers will remain a critical demographic and the ability to attract tech-savvy and affluent travellers over the age of 65 has the potential to emerge as a differentiator for countries and destinations as recommended by World Economic Forum's Travel and Tourism Competitiveness Report 2017.
Baby Boomers are most likely to travel internationally for a bucket list trip and half of all baby boomers are intrigued to share a meal with a local per AARP (American Association of Retired Persons) Travel Trend 2017 report. Offer more culinary and cooking experiences.
Get in tune with top baby boomer bucket list destinations and travel planning habits and publish blog articles to position Back-Roads Touring as THE go to inspiration source of bucket list trips. Plant the seed to be the trusted source in the most popular 2-5 year planning window for U.S. baby boomers according to AARP Bucket List 2017 report.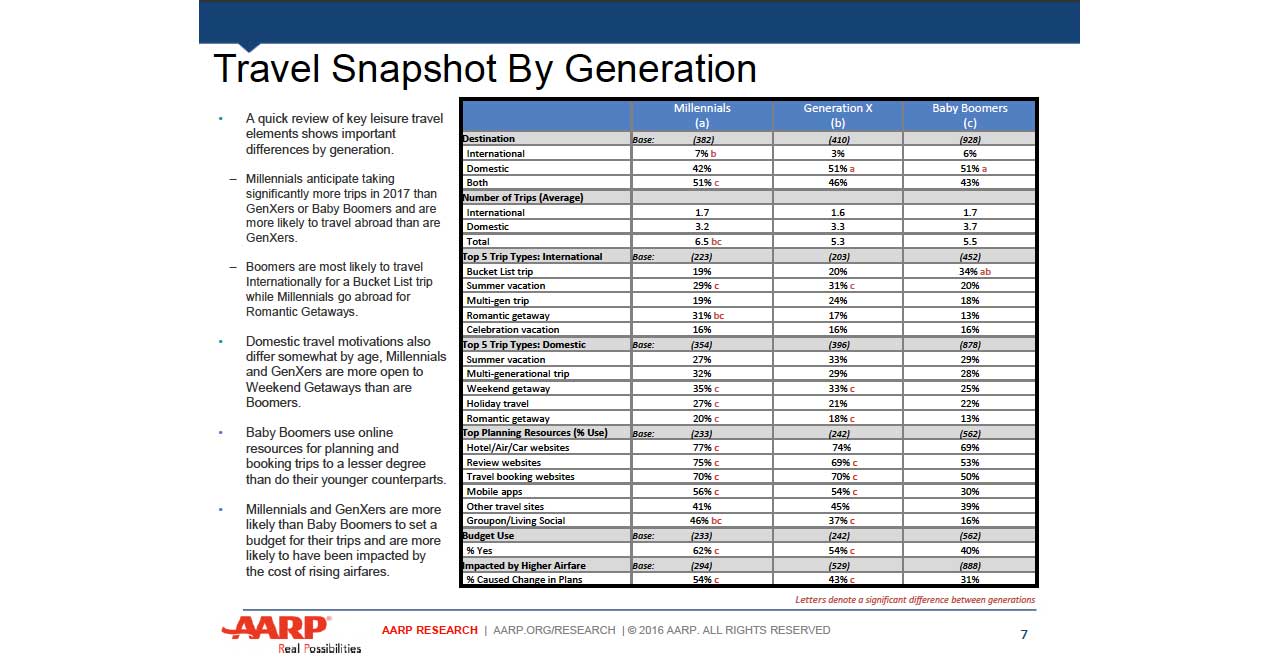 5. Tapping Technology for Product Innovation to Aid Customer Journey Towards Booking
Sabre Labs Emerging Technology Report 2017 identifies Virtual Reality for providing shopping opportunities to customers offering a unique experience to preview potential destinations with immersive experience. Mobile VR is relatively inexpensive with Gear VR or Google Daydream View headsets.
Gordon Meyer, director of VR company YouVisit, believes travel is the ideal space for the technology to make an impact because it provides a visual medium to showcase destinations and experiences that's far more vivid and experiential than flat, two-dimensional media.
Virtuoso invited agents and employees to demonstrate travel videos on an Oculus Rift headset during Virtuoso Travel Week August 2016.
Agencies and airlines are testing VR programs with Ascape, a VR company, specialising in providing virtual tours of destinations Thomas Cooke and Jet Blue.
Selamat Datang Ke Bali
Welcome to Bali. Selection of my photos curating a sample taste of Bali experience I would produce visually.
Potential to offer smartphone photography workshops on trips for travellers who love to capture their unforgettable moments. Cooking and photography classes are the hottest trends in experiential travel according to this Forbes food and travel contributor.
Panoramic photos via smartphone